Item # WD-2 Price $109.99
With a high torque motor and larger blade than other cutters in its class, the WD-2 cuts the heaviest goods with ease.
Suitable for cutting all types of fabric. Also, knit, vinyl's,
fiberglass, wool, plastics, leather and chemical fiber goods, etc.
Low noise, stable operation, easy to operate.
Runs on ordinary house current. Features include a
one-touch sharpener, stationary carbide and counter
blade, double insulated motor and Finger Safety Guard.
Grip-style switch. Press switch to start cutting,
release to stop. Six foot line cord with standard plug.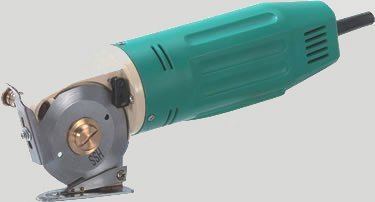 Popular Optional Parts

Kept in inventory for future use.

Hexagonal
Replacement Blade

Blade Size: 2-1/2 inch (66mm)


Blade # WD-700

Replacement Blade
(Lower)


Blade # WD-175

Sharpening Stone
Blade Size:

2-1/2 inch (66mm)

Cutting Depth:

1" 25.4mm (Max.)
Similar model; CONSEW 503K


Included:
Instruction Manual & Part diagram
1 extra sharpening stone,
1 extra safety motor coupling (prevents motor & gear damage)
To place an order check box then click on add to your cart.