SEWSTRONG Model WSM-3300NP Single Needle Top & Bottom Feed Lockstitch with Large Hook and Auto-Lubrication.
*With Labor Saving Needle Position Motor
For Sewing Leather, Synthetic Leather, Canvas, Vinyl, Cushions, Sofas, Baggage, Gloves, and many other fabrics.
Price; $898.00 Plus Freight Fully Assembled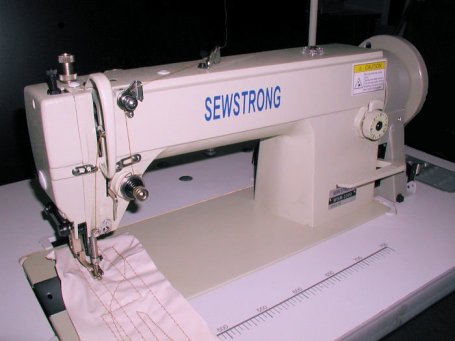 Specifications:
Speed, Max. (S.P.M): 2500
Stitch length: 0-9mm
Needle bar stroke: 37mm
Take up stroke: 58mm
Presser foot lift by Front Lever: 6mm
Presser foot lift by knee: 14mm
Hook: Large Rotary
Lubrication: Auto lubricated

WESTCHESTER SEWING MACHINE CO.
Order by Phone; 800-225-8342 / 845- 627-8873


E
A
S
Y



Ordering Instructions:
Click "Buy"
Select Destination Zip Code
Select Ground Shipping Only
Labor Saving Needle Position Motor
Machine stops in the needle down position when your finished stitching. You then can pivot work to change sewing direction. When done sewing, heal back on treadle and needle will stop in up position. Work can be easily removed and thread snipped.
No need to touch machine handwheel.
Features:
Self Oiling
With its own oil pump. The oil is pumped around the machine head allowing the machine to sew very smoothly and extending its life.
Large Bobbin "M Style"
Holds 2.5 times the thread than a standard bobbin.
High Lift
Up to 15mm foot height with knee lift.
Ideal when sewing very thick fabrics.
Up to 9mm stitch length size.

For large jobs and decorative stitching. The WSM-3300 is fitted with industry standard accessory plate for folders and attachments.
Reverse Stitching
Reverse stitching is obtained by depression of the reverse lever.
*NP Servo Motor
Able to control maximum sewing speed (RPM). Also, using a Servo Motor saves electricity. Learn More
Included:
Bobbin Winder, 6 Extra Bobbins, 10 Extra Needles, Machine Oil, Tools, Instruction Manual, Oil Pan, Knee Lifter, Sewing Draw, Sewing Light, Thread Stand, V Belt & Machine Belt Guards.
Ships Tested with Needle 135x17 size 22 needle (DPx17).
Extra Needles DPx17 | Narrow Wedge Needles

*Heavy Duty Adjustable Legs with rolling casters available add $25.00
*Clutch Motor 1/2 HP motor 220 volt single phase or 220 volt 3 phase also available by request.
*Servo motor with needle position 110 volt or 220 volt available
*Also available Tri Point Needles 135x16TRI
*Please call for above.
The WSM-3300 has the identical feed system as BROTHER's model B727/B797, MITSUBISHI LY2-3300, HIGHLEAD GC0318, JUKI DU-1181N and CONSEW 205RB.