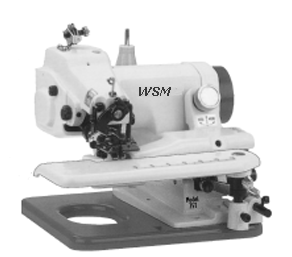 Price $199.99
Ships from New York.

Specifications
Speed, Up to 1200 Stitches per Minute
Stitch Length, 3-8mm
Needle : LWx6T
Presser Foot Height: 7mm
Motor, 110 Volts
Model CM-500 by WSM (Brand New Machine)
(Single Curved Needle Chain Stitch Hemmer)
All metal construction portable industrial grade desktop Blindstitch
(also referred to as Invisible Seam Sewing Machine)
Suitable for dry cleaners, alteration rooms and home sewers.

Applications
For sewing all types of light to medium-weight materials including synthetics, knits and woolens. Typical sewing operations include pant cuffs, felling slack bottoms, hemming dresses, skirt and coat bottoms, draperies, negligees, undergarments, lapel padding, blouses and sleeves.
Skip stitch feature for 1-1 and 2-1 stitching.
Swing-away bed plate for extended work space.
Included Accessories:
Extra Needles
Thread Stand
2 Screwdrivers (1 Philips head- 1-standard)
5-piece allen key set
1-Tweezer
1-Plastic Oiler
2- Machine Clamps
Electronic Foot Speed Controller
Knee lifter
2-replacement brushes for the motor
Instruction & Part manual

Individually tested. Each WSM 500 is individually sewn off and tested before it leaves the manufacturers facility.
Just plug it in and you are ready to sew.
Warranty: 90 days on labor, parts and adjustments, 1 year repair on defects in material/workmanship excluding wear and tear components.