Check Box to Order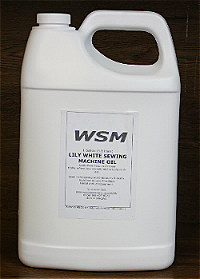 1 US Gallon Plastic Jug (3.8 liters) There are 128 ounces
(4-32 oz. quarts) in a US gallon.
Highly refined, low viscosity and virtually colorless.
Perfect lubricant for Sewing and Embroidery machines.
Also used in cutting machines and other machinery which comes into contact with fabric.

Other uses;
High/Low-Volume Shredders
Dental and Lab Equipment
*We can not ship Oil by UPS Air, 2nd day or 3 Day Select. All oils must shipped UPS Ground. The U.S. Department of Transportation (DOT) prohibits expedited shipments of Oil. If your order contains oil and you select an Expedited service at checkout we must change your shipping method and shipping fees to the legal shipping method. We will notify you of the change in shipping method by email since it is necessary for compliance with the law. We select the best container for shipping your oil at the time of shipping. Our decision is based on any applicable laws, safety, safe transportation, volume and value.