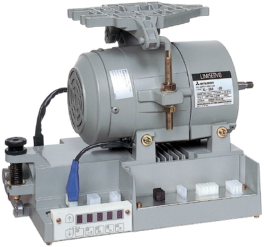 Induction type AC Servo Motor and Control Box
Type
Motor
Connector
Power Supply
Output(W)
Output Shaft
Number of phases
Voltage(V)
XL-554-10Y
Strain relief
Single phase
100 to 120
550
Taper shaft
XL-554-10
Vinyl cap
XL-554-20Y
Strain relief
Three phases
Single phase(*1)
200 to 240
XL-554-20
Vinyl cap
Type

Output

Number of phases

Voltage

XC-FMFY-10-05
550W
Single phase
100-120
XC-FMFYCE-20-05(*2)
550W
Single phase
200-240
XC-FMFY-20-05
550W
Three phase
Single phase
200-240
Functions such as automatic thread trimming, presser foot lifting,
preset stitching, bar tacking and tacking are all provided.
A simple sequence and PC communication function are also provided.
Eight solenoid drive outputs, two air valve outputs and one small signal
outputs are provided. A total of 15 input terminals is provided,
including the variable voltage input.

Compact and lightweight control box
The size has been downsized to approximately half of the conventional model's control box (XC-E Series).
The weight has been reduced by approximately 35%.
Setting data save function
The setting data for one model can be saved in the simple setting mode.
Various functions provided
The operability and functionality of the XC-E Series are incorporated!
The control box can be easily connected with the same type of connector as the XC-E Series.
The No. of virtual inputs has been increased from 5 to 16.
Two electromagnetic valve outputs have been added making compliance with automated machines easier.
Two types of input signal functions and eight types of output signal functions have been added,
allowing versatile input/output operations to be realized.
Simple sequence function
One simple sequence output has been added, making the setting functions more powerful
and allowing various outputs to be created.
Compatibility
The conventional XL-554 motor, XC-KE-01P detector, XC-E500-Y control panel,
XC-FM-1, XC-FM-2 and LE-FA presser foot lifters, and XC-CVS-2 variable speed pedal can be used.
XC-E500-Y control panel is usable
The control panel is compatible with the XC-E Series!
The settings of the control box below the sewing machine table can
be made with the control panel on the table.
This control panel can also be used to save and copy the control box setting data.
User-friendly functions
Personal computer interface provided as a standard
Using the setup software, the settings can be written, read and saved in a batch,
and the setting data can be managed.
A production management system can be structured using the optional communication unit.