Juki MO-655 Pearl Line Home Serger
2-Needle, 2/3/4/5 Thread Overlock Sewing Machine with Chain Stitch, Built-in Rolled Hemming and Differential Feed .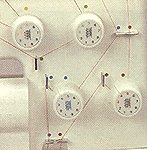 Color Coded Threading Guides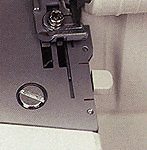 Automatic Rolled Hemming


Built in Sewing Light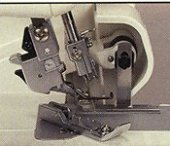 Multi Purpose Foot
Comes equipped with a slotted tape guide which can be used to sew woven tape, elastic, sequins and ribbon.

Dimensions 315 mm (w) x 295 mm (h) x 345 mm (d)
Weight 7.2 kg (15.5 lbs)
Sewing Speed max. 1,500 stitches per minuet

Number of Threads 2/3/4/5 threads

Needle household machine size 11 to 16 (HAx1) (15x1)

Overlock Width chain needle, 10 mm; left needle, 6 mm; right needle, 4 mm; rolled hem, 2 mm

Stitch Length 1 - 4 mm (standard: 2.5 mm); rolled hem, 1.0 - 1.5 mm

Differential Feed 0.7 : 2.0 ratio

Tension industrial type dial / 1 rotation

Built-in Rolled Hemming right (narrow) or left (wide) needle / 2 or 3 thread

Flatlock 2 or 3 thread

Universal Presser Foot tape, ribbon, narrow elastic application

Chain looper threader

Upper and lower loopers

Presser Foot Lift 5mm

Lower knife adjustment knob

Multi-purpose presser foot

Lower looper threader

Sewing width gauge


Sewing Width Gauge
Takes the guesswork out of seam allowances, and its conveniently located on the guard.


Heavy-Duty Knife System
Operates with a dedicated drive to assure constant and easy cutting of light to heavy weight fabrics.
We accept VISA, MasterCard and AMERICAN EXPRESS.
Secure Shopping Cart by: VirtualCartŪ