DNU-1541
DNU-1541S (with a safety mechanism)
1-needle, Unison-feed, Lockstitch Machine with a Large Hook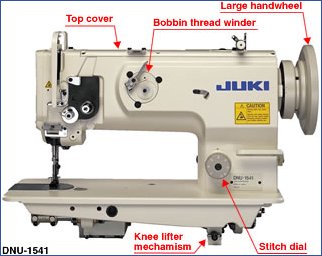 Excellent operability and maintainability.
The stitch length can be easily selected by the stitch dial.
The machine's enhanced operability features include a clear view of the area around the needle, placement of the bobbin thread winder on the front face of the machine arm, and a large handwheel(160mm).
A knee-lifter mechanism is built in the bed. This reduces the pressure required to operate the knee-lifter and facilitates setup.

The machine's full-open-type top design makes adjusting works easier.

The machine comes with a lubricating mechanism that uses a centralized oil wick. This substantially reduces the time and trouble required for oiling the machine. (Hook : automatic.)

A walking foot mechanism is built into the machine arm to prevent oil from scattering
The machine delivers increased productivity at sewing speeds as high as 2,500rpm (DNU-1541, -1541S) or 3,000rpm (LU-1510-7).
The DNU-1541 has replaced the DNU241HS
With its reliable feed and consistent seam quality,
the DNU-1541 responds outstandingly to the sewing of heavy-weight materials.
Order DNU-1541S Online DNU-1541S has a added Safety Mechanism
Also See CONSEW P1541S-CC Similar to JUKI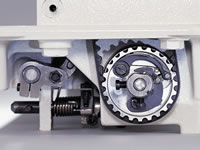 If thread ever gets caught up in the hook or any other sewing trouble occurs, the safety mechanism will automatically operate to prevent the machine from being damaged.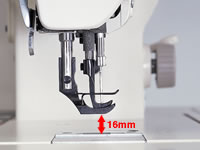 Higher lift of the presser foot
Welting Feet For DNU 1541
Bobbins / Bobbin Case For DNU 1541
The alternating vertical movements of the walking foot and presser foot are as large as 6.5mm. In addition, the ratio between alternating vertical movements of the walking foot and presser foot remains unchanged even when the material thickness changes. Thanks to this feature and the adoption of a new method of rectangular feed that prevents needle from fraying, the machine sews multi-layered parts of a material with consistent stitching pitch while preventing stitch gathering.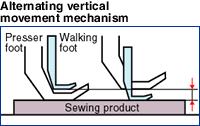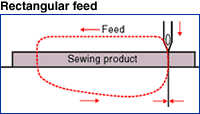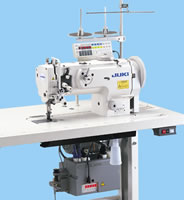 Also See LU-1510-7
Automatic thread trimmer, needle position, programmable, computerized motor.

With its larger needle bar stroke, higher presser foot lift, and newly adopted double-tension mechanism, the machine offers excellent sewing capabilities and responsiveness.