JUKI DDL-8700-7
High Speed, Single Needle, Drop Feed, Lockstitch with Auto Front & Back Tack, Auto Thread Trimmer,
Thread Wiper, *Auto Foot Lift, and Needle Position.
For Light to Medium-weight materials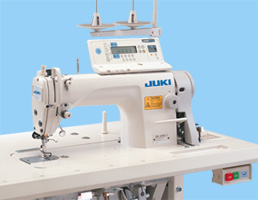 Used by fashion companies, clothing manufacturers, schools, and in the home.
Westchester Sewing Machine Co. has been a Certified Juki Industrial Sewing Machine Dealer since 1989.
Uses Needle System: DBx1 (Sizes #9 to #18)
Table Top Size 48" x 20"
Related Links:
• Accessories for DDL-8700
• Belting
• DDL-8700 Plain
• Folders
• Needles
• Sewing Machine Oil
• Table Truck
• More Juki Machines
Please Contact Us for Price.
Contact Us | Home Page
WESTCHESTER SEWING MACHINE CO.
Phone: 845- 627-8873
Fax 845-627-6949
Low tension sewing mechanism.
One touch type actuator for reverse sewing, one stitch sewing.
Synchronizer built into the pulley.
Self oiling system.
Induction type AC Servo Motor (quiet and saves on energy costs)
Sewing Speed Control
Available in 110 and 220 (three phase) volt.
* Auto Foot Lift (Optional Equipment)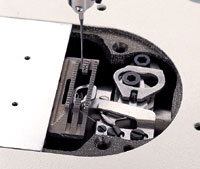 Thread trimming mechanism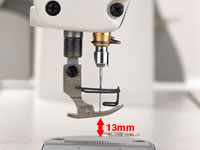 High Foot Lift